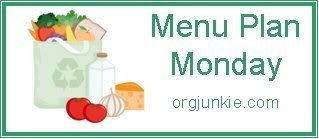 This week I am going to try a couple of new recipes just like last week! I am excited to try some more new recipes. Last week we enjoyed everything we tried, so we have some new 'keepers' :) I would definitely recommend the
Whole Wheat Blueberry Muffins
(yum yum!),
5 Minute Southwest Salad
(thanks to orgjunkie, this salad rocked and was SO fast and easy!) and the
Citrus Fish w/ Couscous
! The
Chicken and Black Bean Quesadillas
were great too, even without the chicken.
I made a mistake this past week that cost us. I had everything out and I was all ready to start dinner when Malachi called me and said we were invited to his parents house for dinner. So I put everything away (or so I thought.) On the way home from his parents house I had a vision of the chicken still in the sink. I was certain that I had put it away along with everything else. When we got home I found the chicken in the sink. :( I was SO mad at myself because the chicken was for 2 meals! I don't know where my mind was!
Anyway, here is our meal plan for this week!
Breakfast:
Oatmeal w/ Fresh Fruit
Cold Cereal
Yogurt, Granola & Fresh Fruit

Smoothies & Whole Wheat Blueberry Muffin's from last week.
Lunch:
***Lunch is usually leftovers around here. If there aren't any leftovers we usually just have sandwiches, burritos, quesadillas, soups or salads...
Dinner:
**We didn't get to the Buffalo Turkey Burgers or the Honey Mustard Pasta last week so those will probably make there way into the menu this week as well.
For more menu ideas head on over to orgjunkie's
Menu Plan Monday!