I had some ECB's burning a hole in my pocket (who am I kidding they are burning holes in my pocket every week, hehe) so I went on down to CVS yesterday, here is what I left with.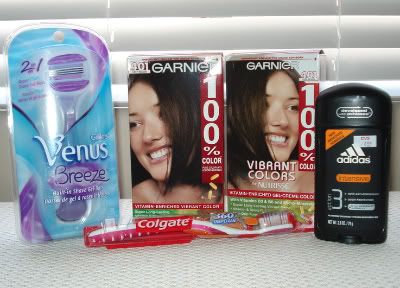 ~Garnier hair color: $5.99
~Garnier hair color: $5.99
~Venus Razor $9.99
~Colgate 360: $3.99 (free after ECB)
~Adidas Deodorant: $4.99 (free after ECB)
Total: $30.95
- $5 off $30 CVS coupon that was emailed to me
- $1.50 off Garnier Nutrisse haircolor coupon (May issue of Good Housekeeping)
- $3.00 Garnier
- $3.00 Garnier
- $4.00 Venus Razor
= $14.45
Then I used some ECB's from last week to help pay for the rest:
-3.00 ECB
-4.99 ECB
-5.98 ECB
Subtotal: $.48 + tax
AND I received $17.98 ECB's back! Yay! :)
For some other great CVS deals check out
BeCentsAble: CVS
.
I am excited for the ad for next week! Looks like some good deals! I will post a scenario or two later in the week when I figure it out!
In the meantime I have got to try this
bread.