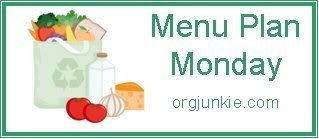 Ever since Malachi and I were married I have been doing menu planning....well I guess I actually started my own personal menu plan back when I was living alone as well. Menu planning is such a great way to keep yourself organized and less stressed out during the week. It is nice to have a variety of different meals to choose from and not have to make so many trips to the store. It also helps to keep your meals within a budget and we all know that is important!
I try to base my menu off of what is on sale and what I already have on hand. I usually open up my cookbooks, or browse around online on Sunday or Monday with the grocery ads for the week in hand. First I try to find meals with ingredients that I already have. Then I see which meats/produce are on sale and build the rest of the menu from that. I also like to try and get a variety of different meats and produce for throughout the week with at least one meatless meal. (Usually not Malachi's favorite, hehe.) When I have decided on the meals for the week I bookmark any recipes I find online and organize them into a folder. For recipes I find in a cookbook/magazine I just bookmark the page and also write the page number down on my list of meals for the week.
I make my grocery list and break it down into categories that follow the layout of the store I am going to like dairy, meat, bread, produce, canned/bulk..etc. That way my list is organized and easy to follow when I am in the store. I also go through my coupon binder and pull any coupons that I have for items on my list and put them in the front of my binder for easy access.
Shopping off of a list helps me a lot. I really try to focus on what I already have on the list so that I do not buy things that I do not need, that is unless I find some sweet sale that I can't pass up and have coupons to go along with it. Of course I always make sure not to go over budget, hehe. *wink* Seriously though...I set an amount and try my hardest not to go over that amount. I feel really happy with myself when I get everything I need for less then my set amount. I usually skip out of the store with a big ol' grin when that happens, j/k.
Some weeks I seriously have know idea what I want to make. I don't like those weeks. A couple of months back I found
orgjunkie
. I wasn't even looking for menu planning ideas, I think I had googled something about organizing closests or something, but I was happy with what I found. Every Monday she hosts
'Menu Plan Monday'
. I have been able to find some great menu ideas from everyone who posts there weekly menu plans there. It is very helpful, especially when you have the 'I don't know what to make this week' problem.
I decided that it was kind of rude of me to find such great ideas from other people and not post anything myself. So I am going to start sharing our weekly menu's here and participate in Menu Plan Monday. Share your menu too, maybe we can get some ideas from each other!
Here is what we will be feasting on this week:
*I don't assign meals to certain days. I like to keep it flexible. You just never know what mood your are gonna be in from day to day. ;)
Breakfast:
Oatmeal and Whole Wheat Toast
Yogurt and Granola w/ Blueberries

Cereal
Eggs and Toast
Smoothies

Lunch:
***Lunch is usually leftovers around here. If there aren't any leftovers we usually just have sandwiches, burritos, quesadillas, soups or salads...
Dinner:
BBQ Beef Sandwiches and Pasta salad. (

Fix it & Forget It cookbook

)

Buffalo Turkey Burgers w/ steamed red potatoes and celery sticks. (

Rachael Ray's

365: No Repeats cookbook

)

I had a few ideas but thanks to orgjunkie I was able to quickly find some other recipes to help me fill in the rest of the week. I thought the Honey Mustard Pasta, and the 5 Minute Southwest Salad sounded good and I got the recipe links from her!
For more menu ideas head on over to orgjunkie's
Menu Plan Monday!