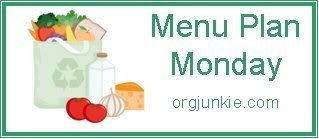 Once again this past week didn't go as planned so some of the previous weeks meals will be for this week. I can't really complain, it just means less planning and shopping for me!
Here is what is on our menu this week:
Breakfasts:
Muesli

*w/some added spices and coconut

& Toast
Millet Muffins & Smoothies
*substituting at least 1/2 the oil w/applesauce
Yogurt & Granola w/ Fresh Fruit
Lunches:
Peanut Butter and Jelly w/fresh fruit or veggies
Grilled Cheese & Tomato Soup
Dinners:
Buffalo Turkey Burgers w/ steamed red potatoes and celery sticks. (

Rachael Ray's

365: No Repeats cookbook

)
** Thank you to Laura at Organizing Junkie for hosting Menu Plan Monday!
**