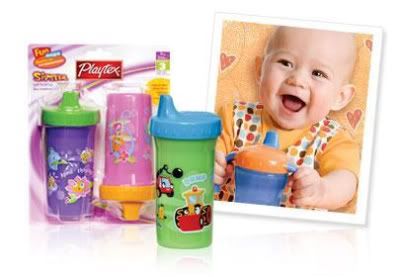 I know this is kind of last minute, but I thought I would share anyway.
Babies R Us is having a great sale on their 2 packs of Playtex Sippy Cups. These sippy cups are made out of type 2 plastic which is
BPA free
and recycleable. In store they are already -$2 off but if you get their circulars in the mail there was recently a coupon for -$2 off EVERY 2 pack of sippy cups. I went yesterday and bought a package for $1.50, regularly priced $5.49!! I bought the Stage 3 (12 months+). You can also use the coupon multiple times in one transaction to get -$2 off all of the cups you buy! I only bought one package because I'm not sure if D will like these cups or not, but for $.75 ea I was willing to try them!
This deal/coupon expires tomorrow.. but I thought I would throw it out there anyway!