What a sweet coupon day! There are really some great coupons in today's paper! Besides the one delivered I got 3 more! One I purchased at Starbucks and the other two were free at Walgreens!
I still had a $10 RR so I made a quick Walgreens run after church to score some toilet paper and extra newspapers since the coupons rock! Well, today was my first experience with a negative subtotal! Here is what I did:
~2 AZ Republic @ $1.85 ea (yeah, I didn't know they cost 1.85 I thought they were $2 - Yay!)
~Pack of 12 Double Rolls Ultra Quilted Northern TP: $8.99
~Walgreens Coffee filters: $.99
~Walgreens travel size tissues: $.29 (Filler item)
Total = $13.97
-10.00 RR
-3.00 WG coupon for Northern TP
-1.00 manf. coupon for Northern TP
Subtotal =
$-.03
+
$.88
tax
=
$.85
OOP
I was surprised that my $1 manf. coupon went through, I thought it wouldn't go through since I was going to go in the negative
**Walgreens paid me $.03 today!
YAY!!

************************************************************************************

This morning we went to Starbucks so I could get my Sunday morning Pike's Place Blend coffee, yum yum...hehe, and to browse through the paper (and to sneak a peak at the newspaper bin hehe, too bad there wasn't any left over papers in there this morning, darn...haha.) It was definatly a good morning though! I thought my total seemed a little low for what I purchased:
~Tall brewed coffee: $1.60
~Bagel w/cream cheese: $.80/$.35
~AZ Republic: $2.00
= I was only charged $3.47 w/tax
When we left I had a look at the receipt and I was only charged $.50 for the Sunday paper! Yay!
I was also very happy because we scored a bag of used coffee grounds from their "
Free used coffee grounds for your garden"
bin! I know you may be thinking "Wow, free
used
coffee grounds?"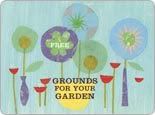 A few weeks ago we hooked ourselves up with a compost bin through the city and decided to start collecting our grass and tree clippings along with our fruit and vegetable scraps, etc. . to help nourish our landscaping and garden. You can also use
coffee grounds
in the bin because they
generate heat and will speed up the composting process.
I love that we are not only saving money by doing this but our plants will be healthier and happier! The Starbucks I usually go to never has any in the bin. :)
Hope you are having a great Sunday! I'm off to finish my coupon cutting, sorting and filing.