I just wanted to apologize for not posting any CVS scenarios for the week. To be honest I never really knew what I was going to do until right before I got there yesterday. So I will go ahead and post about the 'scenario' that I did.
CVS: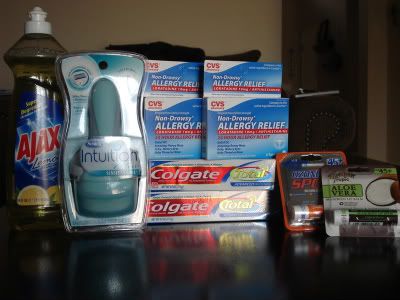 ECB's to start with
:
$ 31.74
Ajax .77
Colgate 4oz 2.99 (-1.50 coupon)
Colgate 4oz 2.99 (-1.50 coupon)
Schick Intuition 9.99 (-4.00 coupon)
(2)CVS Allergy 5ct 3.79 (May freebie)
(2) Hawaiian Tropic lip balm 1.99ea.
Total: $28.30
- $7 coupons
= $21.30
-2.79, 3.99, 4, 4.99, 5 ($20.77 ECB's)
Subtotal:
$.53
+
.61
tax
=$1.14 OOP
Earned
:
$27.58
ECB's
Ending ECB amount:
*$38.55 ECB's*
Thanks to a couple of friendly posters at Slick Deals and Hot Coupon World I learned that the 'buy 2 Hawaiian Tropic items get $10 ECB' promotion this week
includes
the lip balms which are $1.99 each. So you spend $3.98 and receive $10 ECB's back! That is $6.02 profit! Yay!
***Note to above:
I walked around CVS trying to find these and right before I was about to give up I found them.
The Hawaiian Tropic display was in the back of the store at the endcap of the office supply aisle? Hehe, kind of strange.... they had sunblock in different areas all around the store. So you may have to hunt around to find them, but its worth it!
$ Want to see more CVS savings? Visit the Centsible Sawyer's CVS Superstars! Here
*For more CVS savings and other stores as well visit
Money Saving Mom!
Walgreens:
RR's to start with:
$22.00

Trans #1:

Pert Plus 3.49 (-1.00 coupon)
Kleenex .59
(2) Stayfree @ 3.00 ea. (-2.00/2 coupon) (-2.00 Easy Saver catalog coupon)
Walgreens brand pads 1.99

Total: $12.07
-$5.00 coupons
-$6.00 RR



Subtotal:

$1.07




+.97

tax
=

$2.04

OOP



*I will earn

$2.50

for the Pert Plus, and

$1.99

for the Walgreens pads back w/ the monthly rebates.



*My original plan didn't work out. I had a $2.00 off coupon for Pert Plus which would have made it $1.49 so I bought the Kleenex as a filler item so my total would be at least $6 to use my RR. I checked out with the store manager and he noticed that the coupon was only for 'botanical blends Pert Plus' or something so I couldn't use it. I forgot to have him take the Kleenex off too since I no longer needed it for a filler, but its ok...I can always use Kleenex.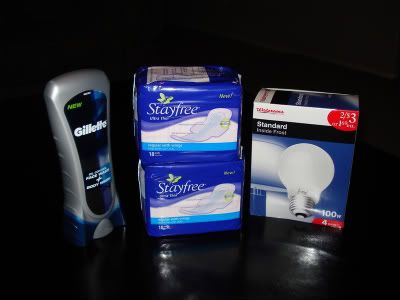 RR to start with:
$16.00
Trans #2:


(2) Stayfree @ 3.00 ea. (-2.00/2 coupon) (-2.00 Easy Saver catalog coupon)
Walgreens light bulbs 1.69

Total: $7.69
-$4.00 coupons
-$3.00 RR



Subtotal:

$.69


+

$.46

tax
=

$1.15

OOP


*I will earn

$1.69

for the light bulbs
back w/ the monthly rebates.

*I also used a Gillette body wash RR to get another free bottle! (-3.49) :)





I will probably pay another visit to CVS this week because I would really like to take advantage of the Eucerin deal. I have a lot of coupons! I am just on the look out for a -$/$ CVS coupon!

Last night we went to Red Robin so that my husband could get his free birthday burger! We went a few weeks ago for my birthday too. I gotta say it sure is nice to pay $9.00 and get 2 awesome burgers! I tried the Banzai Burger and it was out of this world good! Make sure you sign up for the Red Robin eClub so you can a free burger on your birthday!